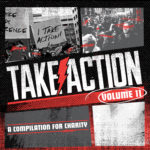 For those of you who are familiar with Take Action Tour it's that time of year for the release of Take Action Contemplation Vol.11. For those not familiar with Take Action Tour was started by Hopeless Records when they got the idea to give bands and their fans an opportunity to do good through music. Since Hopeless Records started back in 1999, now ten years late and almost two million dollars donated to over 50 non-profit organizations. The tour is the highlight where bands help bring sensitive issues to light such as depression, suicide prevention & volunteering.
This year the Take Action contemplation features such artists as The Used, The Wonder Years, The Summer Set, Sleeping With Sirens and many more. Not only does it feature great artists it also features rare/unreleased tracks. The contemplation features 36 tracks on two CD's. Each track on the contemplation is unique all on it's own, there were several tracks that stood out to us. The tracks that stood out were Never Shout Never – Pray For Peace (Demo)* , William Beckett – 48 In A Hospital * , The Used – The Lonely*, The Scene Aesthetic – Carelessly (feat. Dresses)* & I Am The Avalanche –  I'll Be Back Around. Whether you are just now finding out about Take Action or have been a long time supporter you will love this contemplation. Below you can find the full track list along with a link to download Take Action Contemplation 11 & Tour Dates.
Get it now on iTunes here!