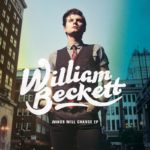 Most of you know William Beckett from his days with The Academy Is. Since the bands breakup in late 2011 William began write music again. He released his first EP Walk The Talk on April 17th, 2012 via Yike Records.
Walk the Talk showed Williams growth as an artist. Some  tracks that stood out on the EP were Oh Love! the song just makes you sing along and move, another track You Never Give Up  really shows his vocal range and is a bit of a slower track on the EP but a great listen. Walk The Talk is without a doubt something every music lover should own. After such great feedback from the music industry and fans, William will release his second EP Winds Will Change on July 17th, 2012, and has already received great praise. On Winds Will Change, every track is its own and no one track sounds like the previous. William added some acoustic with "Scarlett (Tokyo)" which again shows his great musicality. The track "Warriors" gives the listener a more gritty rock vibe.
Both releases from Beckett show how much he has grown from his days with The Academy Is, and he is not going anywhere anytime soon! William is currently on tour in support of Walk The Talk & Winds Will Change with Hellogoodbye and Relient K.
For more info and tour dates vist www.williambeckettmusic.com