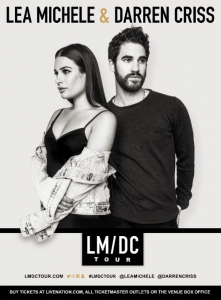 Actors and musicians

LEA

MICHELE and DARREN CRISS add five additional markets to their first ever co-headlining tour. The duo will hit the stage together and solo, performing songs from Broadway, Glee and original songs from their recent solo albums. 
In addition to previously announced dates, Michele and Criss will also perform in Chicago, St. Louis, Atlanta, Durham and Charlotte.  
The limited run tour kicks off on May 30, 2018 at The Ryman Auditorium in Nashville, TN.
Fans can sign-up to gain access to the artist pre-sale tix for the new cities by visiting www.LMDCtour.com.
LMDC Tour Dates
*New Dates 
Date             City                     Venue
May 30th     Nashville, TN        The Ryman Auditorium
May 31st     Cincinnati, OH      Taft Theatre
June 2nd     Pittsburgh, PA       Benedum Center
June 3rd      Washington DC     Kennedy Center
June 5th      Indianapolis, IN     Murat Theatre
June 6th       Columbus, OH      Ohio Theatre
June 8th       Easton, PA            State Theatre Center for the Arts
June 9th       Newark, NJ           NJPAC
June 10th     Toronto, ON          Sony Theatre
June 26th     Chicago, IL         Chicago Theater
June 27th     St. Louis, MO      Peabody Opera House
June 29th     Atlanta, GA          Cobb Energy Center
June 30th     Durham, NC         DPAC
July 1st        Charlotte, NC       Ovens Auditorium