Lana Del Rey brought her highly-anticipated LA to the Moon Tour to San Diego's famous Valley View Center on Thursday, February 15. The "High by the Beach" hitmaker embarked on an international 36-date trek earlier this year in support of her fifth studio album, Lust for Life. Del Rey is set to visit several other North American cities, as well as Australia before finishing up overseas in Madrid, Spain.
As the arena lights went down, a roaring sea of fans swarmed the General Admission floor as black and white montages filled the screens. Donning a white floral dress, Del Rey emerged from side stage into a cover of Henry Mancini's "Experiment in Terror." Accompanied by a setup of stage props that transported you into a tropical paradise, she proceeded into "13 Beaches" and Ultraviolence hit "Pretty When You Cry." Del Rey has stated herself that she is a much stronger vocalist in the studio than in live performances, but despite that, her vocals were consistent and powerful throughout much of the night. She utilized a number of vocal techniques, only she herself could execute.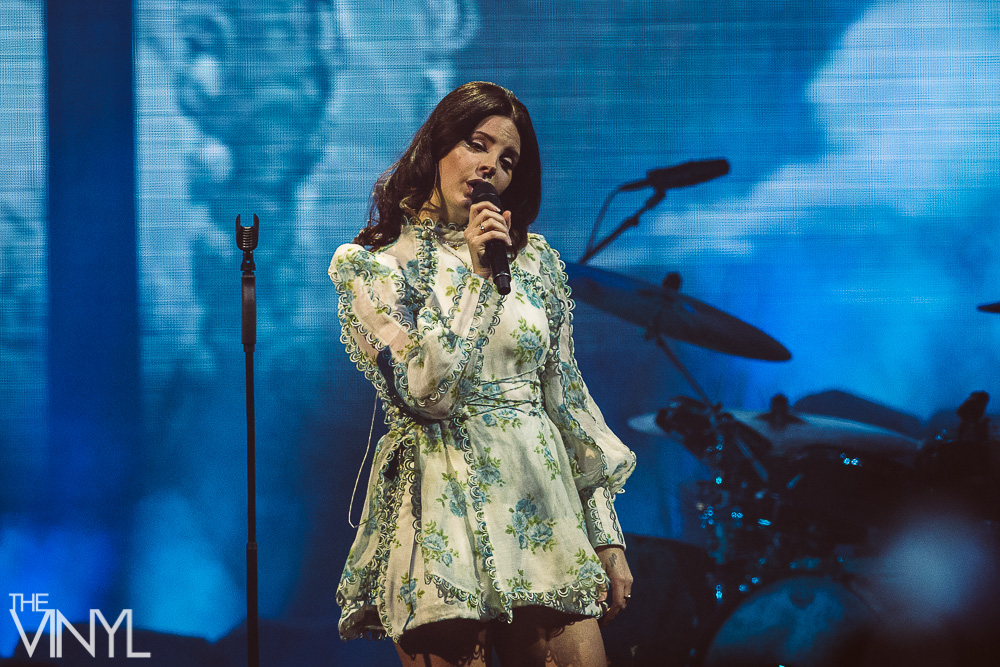 Lana Del Rey performs in San Diego, CA on February 15, 2018.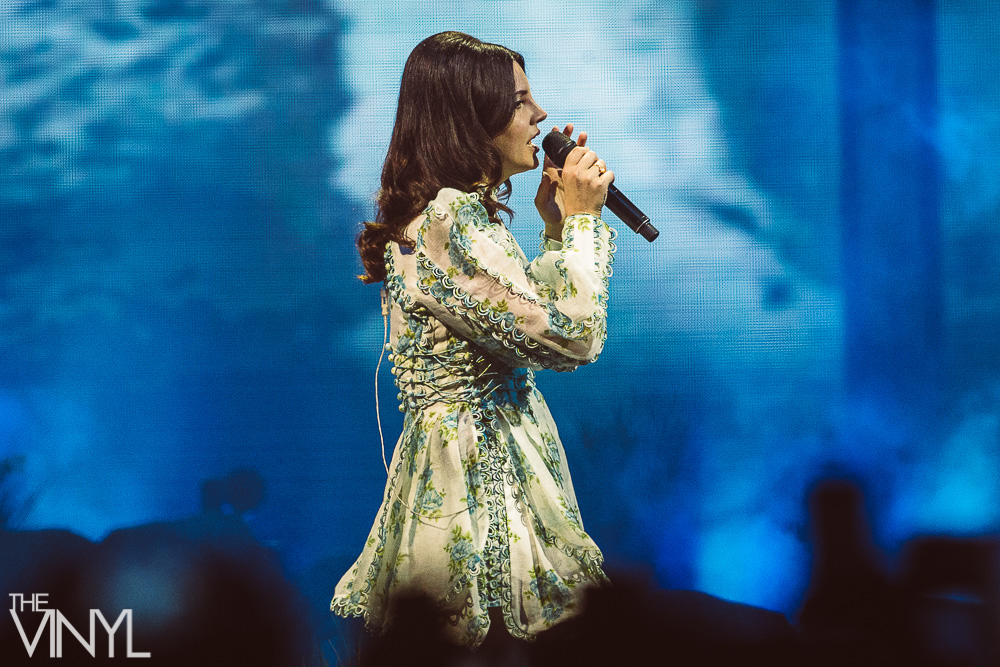 Lana Del Rey performs in San Diego, CA on February 15, 2018.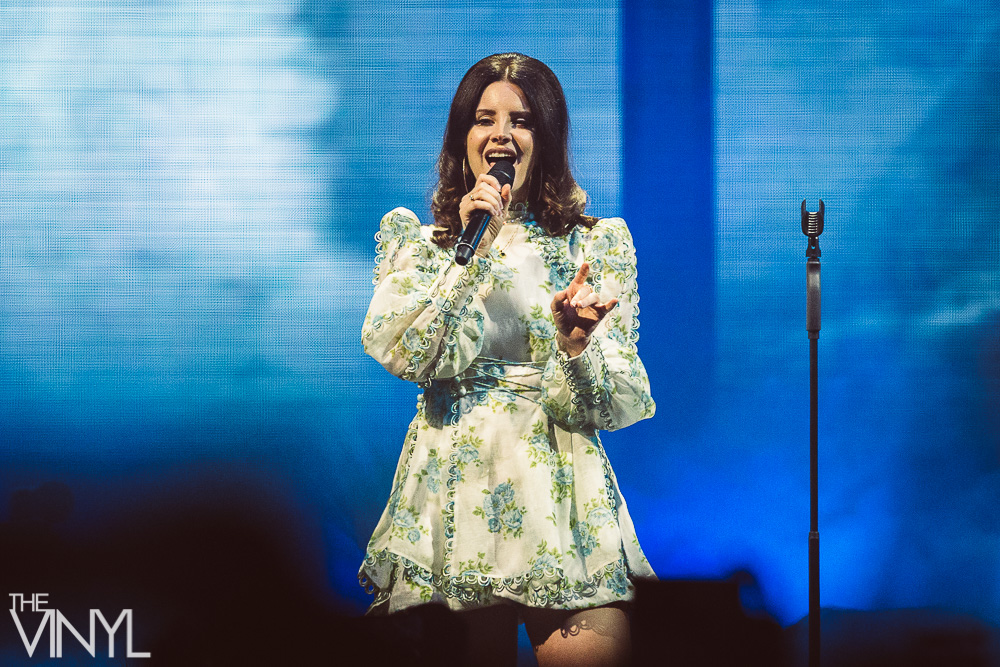 Lana Del Rey performs in San Diego, CA on February 15, 2018.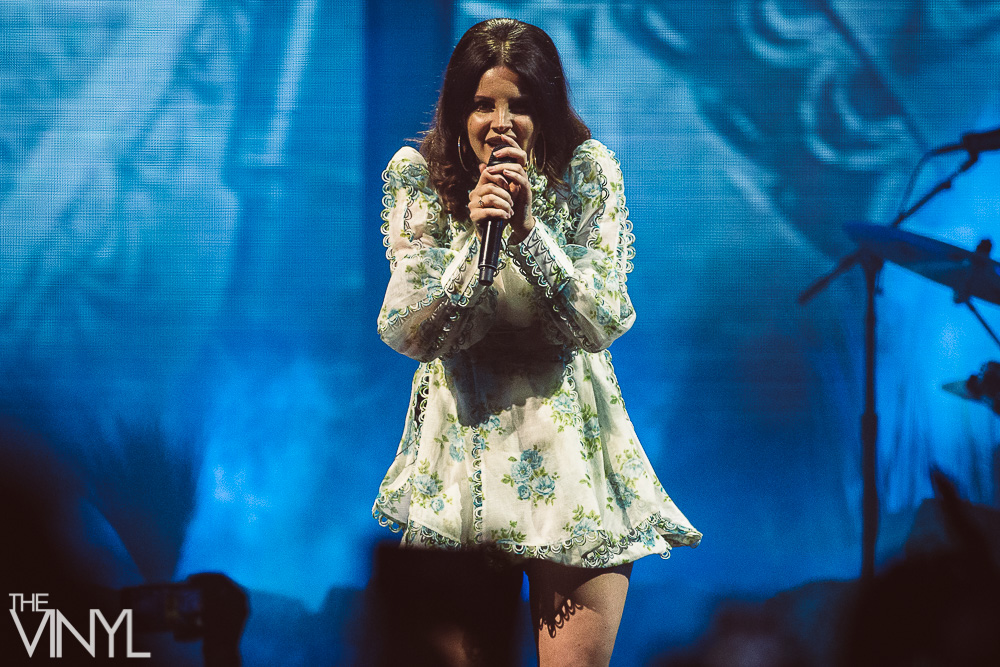 Lana Del Rey performs in San Diego, CA on February 15, 2018.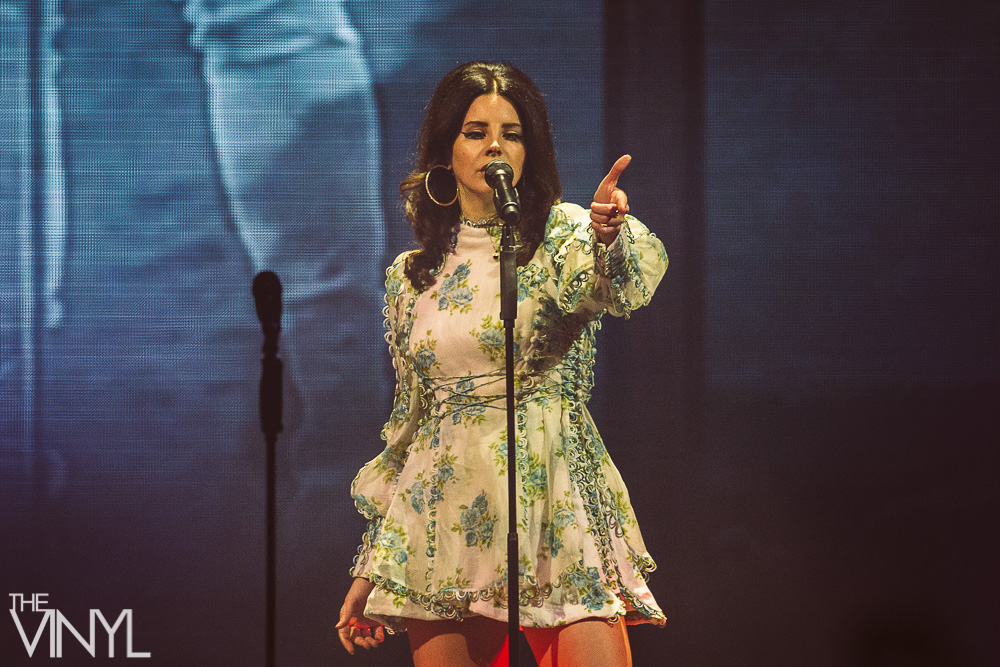 Lana Del Rey performs in San Diego, CA on February 15, 2018.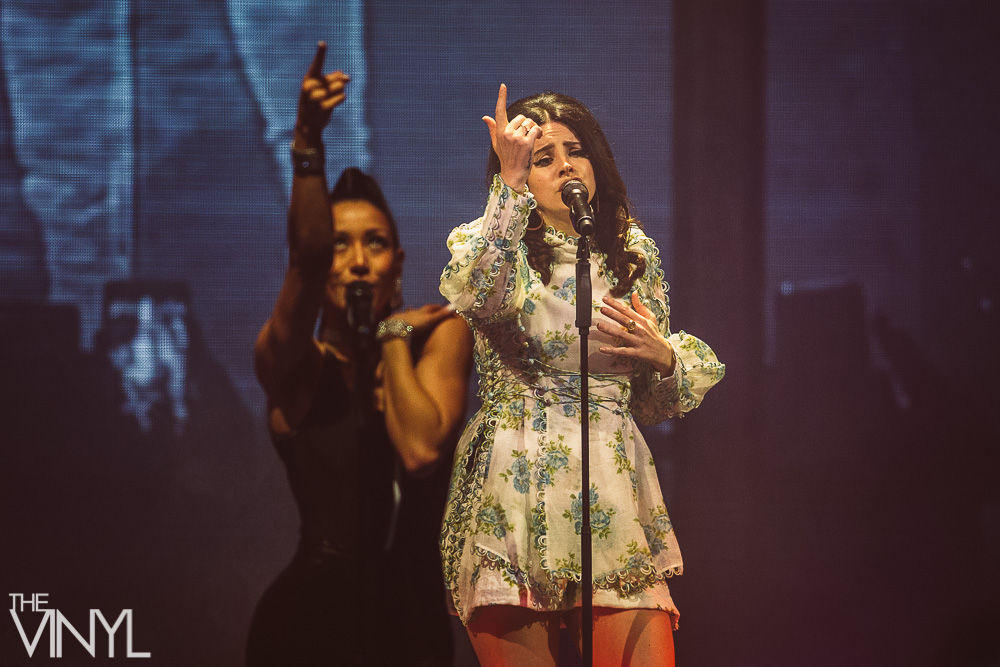 Lana Del Rey performs in San Diego, CA on February 15, 2018.
"I feel like there's a lot going on in the world right now. I think especially, for us as women, we need to be there for each other, now more than ever. So ladies — this song's for you," Del Rey said as she dedicated Lust for Life's "God Bless America – And All the Beautiful Women In It." Across the span of a 20-song setlist, Del Rey captivated the attendees of Valley View Center with stunning visuals throughout her performance, notably on "When the World Was at War We Kept Dancing," in which the main platform was cast with a water projection, to suit the oceanic theme.
Del Rey decided to get up-close-and-personal with her diehard fans on more than one occasion throughout the course of the night, but the first being as she nearly swung back and forth, atop of the crowd smiling ear-to-ear for Born to Die fan-favorite "Video Games."
"Well, this is the part of the show where we aren't really sure what to do next," Del Rey informed the crowd, mid-way through her hour-and-a-half set. Throughout various dates on the tour, Del Rey would inquire with the audience as to what songs they would like to hear, which for San Diego ended up being a shortened, acoustic version of "Get Free." She also performed "West Coast" for the first time on the tour, which proved to be a massive highlight for several fans.
Del Rey wrapped up the latter half of the set with "Summertime Sadness," in which she exited the stage for the final chorus of the song to greet fans along the front row for a myriad of selfies, autographs, and those who wished to gift her special items. It's more than abundantly clear Del Rey has an incredibly loyal fanbase, and the feeling is definitely mutual for the pop songstress.
"Thank you all for coming out and spending time with me tonight. I started out as an indie artist who never thought any of this would be possible and now I'm playing arenas and festivals, and it's all because of you. We'll see you soon, San Diego," Del Rey proclaimed as she made her way into set-closer "Off to the Races."
Del Rey's LA to the Moon Tour will continue on through April of this year. For the complete tour setlist, visit setlist.fm. Tickets can be purchased directly from Lana Del Rey's official website at www.lanadelrey.com/live. Lana Del Rey's latest release, Lust for Life, is available now.
Photos and review by Curtis Vadnais.