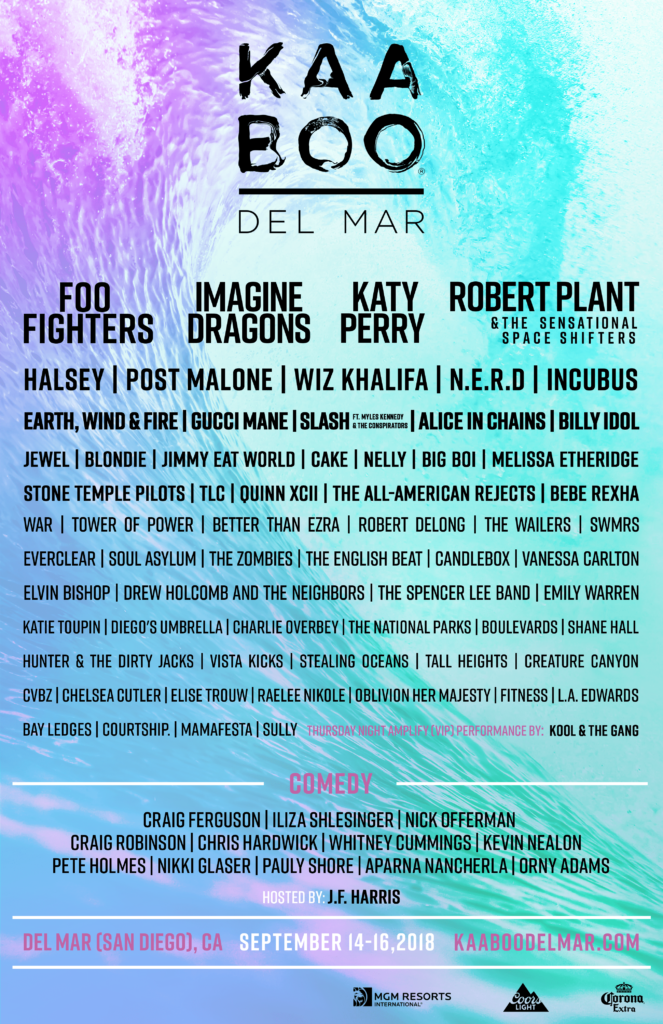 Photo courtesy of kaaboodelmar.com.
KAABOO Del Mar announced their fourth-annual festival lineup this morning, set to take place this September at the Del Mar Fairgrounds in Del Mar, California. Topping this year's bill is rock n' roll superstars Foo Fighters, Las Vegas-hailing Imagine Dragons, global pop sensation Katy Perry, and the iconic Robert Plant & the Sensational Shape Shifters.
Other artists set to grace the KAABOO stages for the first time include Halsey, Post Malone, Wiz Khalifa, N.E.R.D., Gucci Mane, Slash, TLC, and Bebe Rexha just to name a few throughout the weekend of September 14-16. To view the full lineup, head over to kaaboodelmar.com.
KAABOO isn't just your average music festival, though. It's an intricate blend of music, comedy, art, and culture over the course of three days. Craig Ferguson, Chris Hardwick, and Nikki Glaser are just a few names set to bring the laughs over the course of the weekend. As the old saying goes, there's something for everyone, and it's something KAABOO prides itself on in contrast with competing music festivals. The three-day experience also brings forth some of the best cuisines from world-renowned chefs across the county. It's an experience that must be witnessed in order to grasp just how significant of an impact its had on residents of the community in such a short period of time.
Passes start out at $249 for three-day general admission, while the VIP Hang Five and Hang Ten passes range from $849-$3,299, boasting premium experiences such as preferred seating, exclusive food/drink options, and meet and greet opportunities. Passes can be purchased directly at kaaboodelmar.com so don't miss your chance to experience one of year's best festivities and grab yours before it sells out.