The Vinyl sat down with Ulrik from LEMAITRE for an exclusive interview. Here's little background history on the duo: they formed in Oslo, Norway in 2010/ LEMAITRE takes its name from Georges Lemaître, the Belgian priest and astronomer known for introducing the Big Bang theory.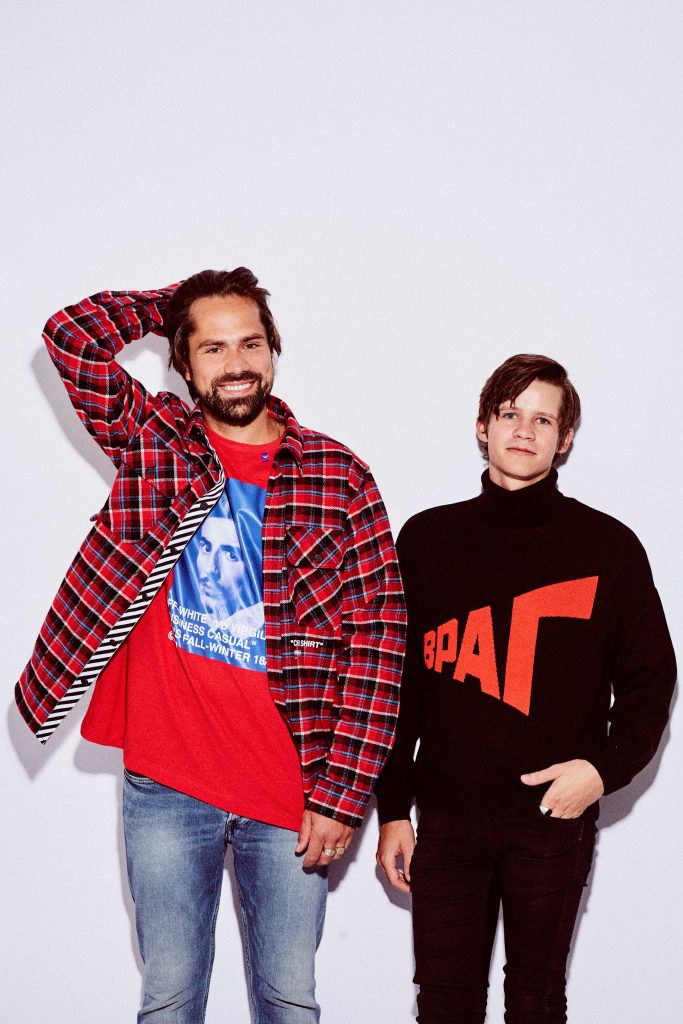 Stephen Butkus
The Vinyl: Can you introduce yourselves to those who aren't quite familiar with you and your music?
Ulrik: We are two dudes from Norway making eclectic pop, indie, electronica music. Or whatever you want to call it.
The Vinyl: How did LEMAITRE start? How did you all meet?
Ulrik: We started right out of high school, both being tired of school we decided to give music a shot.  We knew each other from junior high school and had both been dabbling with music on our own, when we finished school we were like "hey why not try to make something together."
The Vinyl: What/who inspired you to take on the music industry as a career?
Ulrik: We couldn't imagine working a regular desk job, so we gave ourselves a year to make it in the music industry and luckily we were able to live off it pretty quickly. Thank you internet!
The Vinyl: You have a new single coming out called "BIG", do you have a particular message that the single is supposed to spread across listeners?
Ulrik: It's a song about loss, Ketil who wrote it had his family dogs who had recently passed away in mind when he wrote it. But I think there are a lot of universal feelings in regard to loss so I think that many can relate to the lyrics. The idea was that you don't really die until you are forgotten, so if he wrote a song about them, they would still be around.  SIDE NOTE* See video for BIG here: 
The Vinyl: You recently released a song with Betty Who called "Rocket Girl" and it seems to be spreading like wildfire, how was it working with her? She's a pretty talented individual.
Ulrik: She's really cool and talented. We sent her the song as we were in Norway at the moment, but she nailed it at first try. She did however make it to the release party so luckily we were able to have a big night together and celebrate.
The Vinyl: Do you have any plans on releasing a record? Are you in the studio at all? What are some future plans you have in mind?
Ulrik: We are always in the studio between shows. But never long enough to finish a whole record that we are happy with it. We would like to set off enough time to do it someday though. For the nearby future we will consistently release songs throughout the year.
The Vinyl: You're going on a headlining tour this winter; what expectations do you have for it?
Ulrik: Headline tour is always so much fun. Getting to meet the fans, setting up a full show and doing new stuff. We have spent a lot of time making this new show something different from what we've been on tour with before.
The Vinyl: What cities are you most excited to visit?
Ulrik:All the cities we're doing on this tour are basically our favorite cities to play, hard to say which, but playing in our two "hometowns" Oslo and Los Angeles is maybe a little extra since all our friends and family comes out.
The Vinyl: You're also playing Austin City Limits Festival, that sounds like an absolute blast how exciting is that?
Ulrik: That's one of the top 3 festivals we've wanted to play at. Really looking forward to that one.
The Vinyl: Anything you'd like to share with the fans?
Ulrik: We would be nothing without you! Thanks for the support and looking forward to seeing you on tour<3