COVID-19 has made a huge impact on many people all across the world, and its put many people out of jobs and at some high risks etc. So here at The Vinyl we wanted to celebrate the insanely talented creators in the photography business. We are celebrating the Concert Photographers, the Lifestyle Photographers, the Wedding Photographers, the Wildlife Photographers and every other type of Photographer behind that camera that brings such joy to the eye.
Introducing Lia Crompton hailing from the Boise/Salt Lake City Area!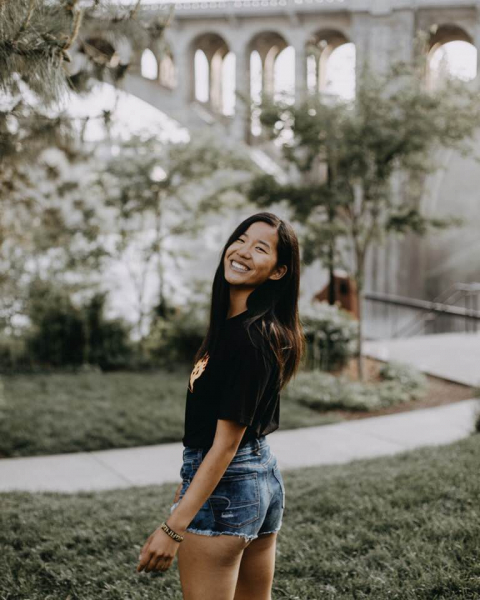 The Vinyl: Please introduce yourself and tell us your primary photo location(s)?
Lia Crumpton: My name is Lia Crumpton. I am a senior at Boise State University and I primarily shoot in Boise and Salt Lake City.
TV: How did you know that being a photographer is something you truly wanted to do, and what/who are some inspirations you may have had/have?
LC: I didn't realize I wanted to be a music photographer until I saw Lauv and Jeremy Zucker in Portland, Oregon my freshman year. I happened to bring a small digital camera and Jeremy posted it and it just took off from there. It's been a huge learning experience, my first couple of shows I was using auto or didn't know how to get the right angles and stuff. I actually met a girl in Seattle, her name is Farra, she had a camera at Gnash and I asked her a few questions and then a year later we were shooting Sasquatch together. She inspired me a lot — I was really grateful that we've become friends and I was able to thank her.
TV: What equipment is a must-have for you no matter where you are going to be working? What does your typical photographing setup look like?
LC: I ALWAYS carry ear plugs. They're so underrated but so essential. Life saving, especially for festivals. I typically carry a backpack that has my camera, a 2TB hard drive, a couple extra memory cards, a charger, external phone charger as well and some business cards.
TV: What are some of your favorite techniques when it comes to editing styles/ways you present your work? Do you have different aesthetics for different types of work?
LC: I really love capturing the raw emotion of artists, especially smiling. I love when artists are very expressive and it really shows how passionate they are about what they do. I also love taking crowd photos. They're so fun and everyone is excited to get their squad photo taken. As far as aesthetic, I think I like more vivid shots, lots of color. I've started leaning towards EDM because of the different backgrounds, energies, and outfits.
TV: COVID-19 has completely changed the lifestyle for soooo many different people, how has it effected you? Whether its work/photo related or just all together? How do you keep yourself busy?
LC: For me, it really hurt my plans. I was planning on working two festivals back to back then attend Coachella. I've also lost some other summer opportunities which stinks. I'm hoping to move to the east after I graduate so I've been busy researching different companies, locations, and learning new skills. I've dedicated myself to learning new stuff via YouTube or watching livestreams so I feel like I'm still at a festival.
TV: Now that Concerts/Festivals/Events/ Social Gatherings(weddings, reunions, family portraits etc) /Sports etc are being cancelled/postponed all over the world due to COVID-19, how are you finding ways to stay creative? 
LC: I haven't been too creative at the moment, more just focusing on how to stay in shape and get decent grades hahaha. But I just bought a new iPad so I think I'll start editing and taking photos again pretty soon and testing out all of its features.
TV: Once all this (hopefully) goes away, what are some of your plans to get back to a somewhat "normal" schedule? 
LC: I'm hoping to shoot a couple festivals before I graduate — BUKU in New Orleans, Bass Canyon and Beyond Wonderland PNW at The Gorge, and working Treefort in Boise. Then I'm going to Coachella because I'll have had the tickets for almost a year and a half since they came out (I had presale) and EDC Orlando. Then I'll be taking a break again haha.
TV: What are some of your favorite creative pieces/photos/opportunities you have gotten to do in 2020 before all hell broke loose?
LC: You know, I didn't really get to do a lot in 2020, I took a four month break at the end of 2019. I shot 7 festivals, went to 2 others, and had 17 other opportunities and I was just burned out and now I miss it. Some of my biggest opportunities were flying to LA to do some promo, working Firefly, and throwing Taco Bell from the stage with Paz.
Here are a few of Lia's favorite photos:

TV: Is there anything you would like to add as we end this interview? 
LC: thank you for the opportunity!! <3
TO KEEP UP TO DATE WITH LIA, CHECK OUT THE LINKS BELOW:
Instagram
Portfolio