COVID-19 has made a huge impact on many people all across the world, and its put many people out of jobs and at some high risks etc. So here at The Vinyl we wanted to celebrate the insanely talented creators in the photography business. We are celebrating the Concert Photographers, the Lifestyle Photographers, the Wedding Photographers, the Wildlife Photographers and every other type of Photographer behind that camera that brings such joy to the eye.

Introducing Craig Hunter Ross!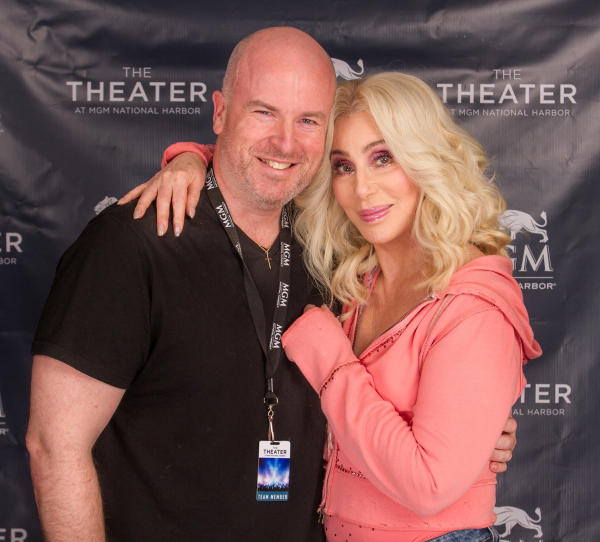 The Vinyl: Please introduce yourself and tell us your primary photo location(s)?
Craig Hunter Ross: Sure. My name is Craig Hunter Ross and I am the house photographer for several venues in the DC/MD/VA area.  This year will be my ninth year as the house photographer for Jiffy Lube Live, a Live Nation Venue in Bristow, Virginia.  I love that place and I love the people I get to work with there.  Live Nation has opened more doors for me than Monty Hall from "Let's Make a Deal" ever could. That relationship has evolved into shooting all Live Nation shows in the area, as well as becoming the house photographer for The Theater at MGM National Harbor, since their very first show.  A few years ago I became the house photographer for Monumental Sports, which added all the concerts and select sporting events at Capital One Arena and Eagle Bank arena to my quiver. In addition, as time allows, I'm also the senior writer and photographer for Guitar International.  Quite often, I do photo work for AEW (All Elite Wrestling) and some WWE and independent wrestling promotions like MCW in Maryland as well.  Needless to say, I stay quite busy!  For the most part, I try to limit myself to those arenas, MGM of course, and stadiums; not really shooting at clubs unless I'm working directly for an artist who requests me for the gig, or if it's part of an interview and I want a few live shots. The size and spectacle of the larger venues is just far more appealing for me.
 TV: How did you know that being a photographer is something you truly wanted to do, and what/who are some inspirations you may have had/have?
CHR: For many years, I was a front of house engineer at church (the sound guy) and also traveled around with friends who were singers or in bands mixing their shows, etc. Every now and then, I'd take a few shots of their performances and people seemed to like them.  At a previous job (I'm not a full time photographer), I traveled a great deal all over the country for weeks at a time. All big cities with GREAT places to capture images.  That's when I kind of caught the bug.  Then a friend put me in touch with JAM Magazine out of Dallas and they asked me to "try out" for them by photographing Aretha Franklin!  Yeah, no pressure!  That was June 21, 2011 and I have been hooked ever since.  But I still don't do it full time.
My inspirations tend to come more from motion pictures than photography; Orson Welles, Walt Disney, Peter Jackson, George Lucas and Jon Favreau.  You can learn SO much from motion picture bonus features, interviews and behind the scenes featurettes that you can apply to photography. It's really amazing.
TV: What equipment is a must-have for you no matter where you are going to be working? What does your typical photographing setup look like?
CHR: That really depends.  There are some things that NEVER leave my bag.  A Canon 24-70 f2.8, a Canon 70-200 f2.8 and a Sigma 120-300 f2.8, all on Canon 7D bodies.  I LOVE that camera and have three of them; can use it with my eyes closed, but that would be counterproductive for a photographer don't you think? There are several other lenses I use, but those three are always with me.
For my VIP meet and greets (which I do a great deal of for MGM) and portrait sessions, I shoot with the 24-70 f2.8 and use five Godox AD200s with MAGMOD modifiers.  It's important to me that they are lit perfectly, since these good people are usually paying a lot of money to get a photo with their favorite stars.  The set up is clean and quick to set up with no wires, etc.  I absolutely love it and keep adding to it.
 TV: What are some of your favorite techniques when it comes to editing styles/ways you present your work? Do you have different aesthetics for different types of work?
CHR: Technique really varies on what the client wants.  When working directly for an artist or a retail client, they are paying me for a fairly well established end product that they desire.  Can I provide creative input? Sure.  But in the end it's their final call.  As it regards to the concert photography for venues, they are paying me for my creative output and I have full discretion to capture the set as I see fit.  They may request certain moments or specific aspects, but 95% of it is what I see and feel. My goal is to capture what actually happens, to bring the show to those who weren't fortunate enough to be there and to capture a special memory for those who were.  I try to stay away from getting all artsy fartsy and interpretive in my work.  Just capture what happened and do it well.  In terms of editing, I try my best to capture an image at least 85-90% in camera and maybe sweeten a bit in Lightroom.  That's all I use.  No Photoshop or anything.
 TV: COVID-19 has completely changed the lifestyle for soooo many different people, how has it affected you? Whether its work/photo related or just all together? How do you. keep yourself busy?
CHR: I work from home 95% of the time for my full time job, so that hasn't changed.  My daughters both have class online now (college and high school) so they are home, my son is homeschooled already so it's nothing different for him.  My wife teaches part time so teaching online has been something new for her, but otherwise in regular life no big changes.  Having a wife and three kids I'm always busy regardless of COVID-19! We do VERY much miss having the gym, though.  Hopefully that opens back up soon!
 TV: Now that Concerts/Festivals/Events/ Social Gatherings(weddings, reunions, family portraits etc) /Sports etc are being cancelled/postponed all over the world due to COVID-19, how are you finding ways to stay creative?
CHR: Well, several ways actually. My son is an internationally known LEGO custom builder, so we are always photographing his work for fun and for his promotional work, endorsers, etc.  We also went through a stage of recreating album covers and movie scenes he would build in LEGO and we would photograph.  A lot of what I am trying to do now is build a new website that will make it easier for clients to access and archive my work.  I've also been doing some story line writing for wrestling promotions and a possible television show and will be writing and directing some film vignettes for wrestling talent.  I have an acting role coming up for an Amazon feature, but filming is suspended right now due to the COVID situation.
 TV: Once all this (hopefully) goes away, what are some of your plans to get back to a somewhat "normal" schedule? 
CHR: To shoot as many shows as I can and enjoy them all!  My schedule is NEVER normal!  There have been times in the summer months when I have shot 13 shows in 15 days, 10 shows in 12 days, etc. Give me all I can get!  The 2019 show schedule had me so swamped I was actually triple booked with concerts some nights.  I have been VERY fortunate to bring into my production company fold two fantastic concert photographers, Jack Peralta and Mike Ware, to cover shows when I can't.  We are a great team and they are great guys, each with the full confidence not only of me, but of my clients.  That makes things a whole lot easier on everyone.  They've earned it.
 TV: What are some of your favorite creative pieces/photos/opportunities you have gotten to do in 2020 before all hell broke loose? 
CHR: There was a fun private BlackJack Tournament I did for the Washington Nationals. That was a blast.  Most of the photos were just goof around shots and some promotional things.  Had a lot of fun and all were super cordial and accommodating.  I think it came down to Max Scherzer, Kurt Suzuki and Trea Turner, but I don't remember who won.  A great time was had by all as they say and they were all super cool and chill to work with.
​Actually, the last event I think I shot before all this COVID went down was what has ended up being the final WWE Monday Night RAW with an actual live audience!  Hadn't thought about that!
Here are a few of Craigs favorite photos:

 TV: Is there anything you would like to add as we end this interview?
CHR: Appreciate you reaching out to me!  Everyone stay healthy and stay safe, this should be over soon and we will all be back to doing what we love with hopefully a greater appreciation for the ones we love. If you see me at a show, come up and say hello! God bless!