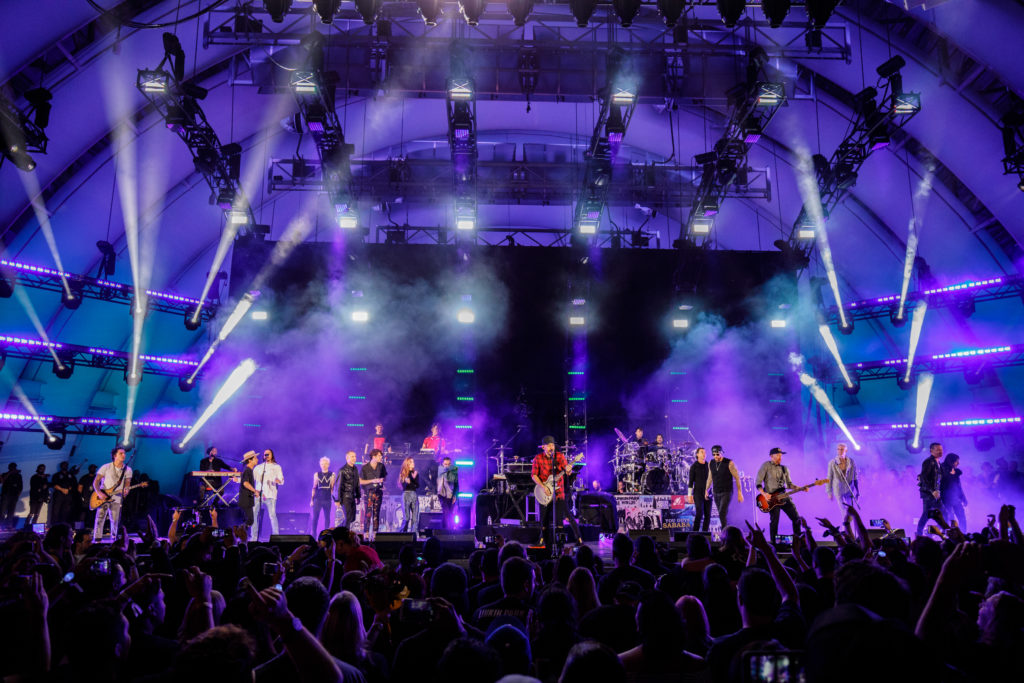 Bojan Hohnjec
Multi-Grammy Award-winning band Linkin Park held their first concert in three months last Friday, October 27. Following the death of their frontman Chester Bennington, the remaining Agoura Hills natives announced on September 18 that they would be hosting a benefit extravaganza titled "Linkin Park & Friends Celebrate Life in Honor of Chester Bennington," at the legendary Hollywood Bowl in Los Angeles, California. Despite some of the most horrendous traffic ever in the Los Angeles-Metropolitan area, thousands of fans from all across the globe flooded into the Bowl to see the troupe bring together some of their closest friends in the music industry for a one-night only event that would truly never be forgotten. All proceeds from the show would go to Music for Relief's One More Light Fund, created to bring light to mental health.
It was already off to an emotional start from the opening of the show, which kicked off with a brief video introduction followed by Meteora hit "Numb"—but with a rather divergent approach than the usual performance. The ensemble encouraged attendees prior to the spectacle that they should arrive as early as possible, and sure enough, they meant it. With no band members in sight, only Bennington's mic stand was featured by spotlight while the instrumental track played in the background, leaving the fans to fill in the lyrics. Talk about a truly empowering moment seeing 17,000 fans chant those words with more passion than ever before, the tune had definitely taken on an entirely new meaning for those in attendance. There wasn't a single dry eye in the house, including myself.
Over the course of 32 songs and 3 hours, co-founder Mike Shinoda, Joe Hahn, Rob Bourdon, Brad Delson, and Dave Farrell brought up some of their closest friends and some of the biggest names in music to the stage for various tribute performances. From the likes of the members from Blink-182, No Doubt, Avenged Sevenfold, to surprise guests such as Alanis Morissette, Bebe Rexha, Steve Aoki, the genre-bending quintet crafted one of the most revolutionary sets ever to be performed at the iconic venue. 
Key highlights included guest performers Zedd on drums and Oli Sykes of British metalcore band Bring Me the Horizon, filling in on vocals for Hybrid Theory's "Crawling" and Sydney Sierota of Echosmith joining in on A Thousand Suns' "Waiting for the End."
Taking the time to soften the tempo, Shinoda made a statement in regards to the future of the band before debuting a brand new song.
"I sat down in the studio, and I wrote something. It was about eight days after [Bennington's death], and I wanna share it with you guys. I don't know what's going to happen with this song, it could just be this for tonight. But if we do continue, I want to continue writing on this song and building on it. It'll be a really unique time for you guys for us to be able to share with you a glimpse into how a song gets made," he stated before proceeding into "Looking For An Answer," which illuminated the amphitheater by nearly every cell phone.
It's clear how personal the unfinished piece was to Shinoda, as witnessed by numerous voice breaks throughout his performance. However, it couldn't have been more perfectly executed and the audience couldn't have been any more supportive.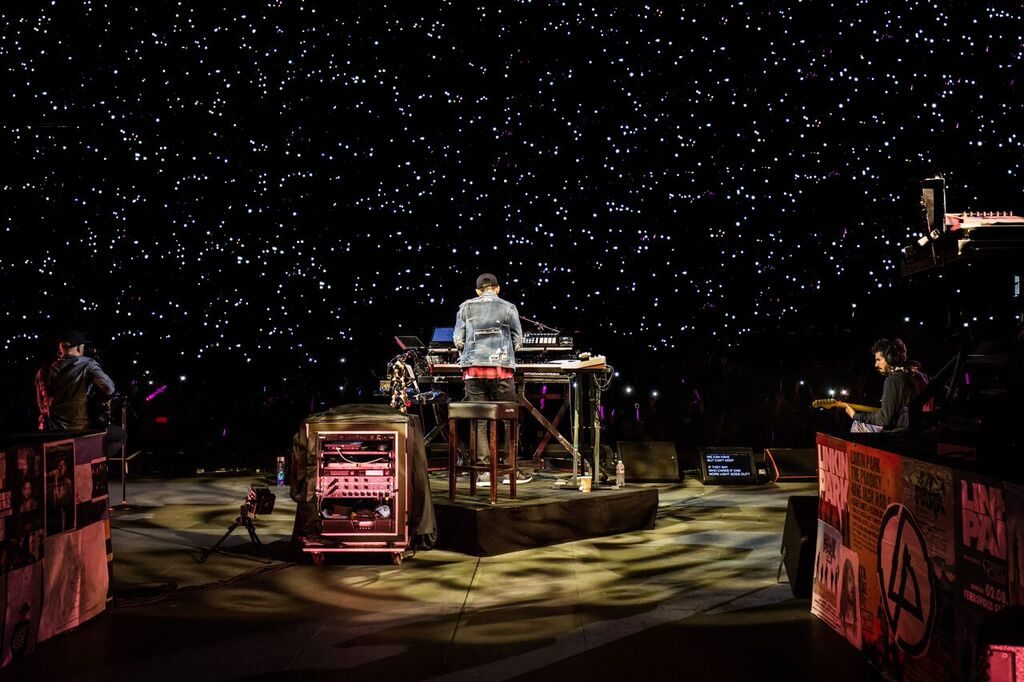 Bojan Hohnjec
"Our special guest on this one is our favorite special guest of the whole night. That's f—ked up to say, because there's all these great people who have come out, and if I say that, it makes them look bad. But I do mean that it's our favorite guest—it's you guys," Shinoda proclaimed as they made their way into the Hybrid Theory signature classic that launched them into the mainstream, "In The End." Cue the inevitable waterworks from my angsty early 2000s self. 
Just before the encore, Bennington's wife, Talinda, delivered a compelling speech bringing awareness to depression, addiction, and mental heath.
"Thank you all so much for being here tonight. Thank you for being there for each other. Chester would have loved this. He would have loved seeing us lift each other up. F—k depression, let's make Chester proud," she stated in reference to the hashtags used in support of the event. During this time, she introduced 320 Changes Direction, a campaign designed to change the culture of mental health in America. The "320" is in reference to Bennington's birthday, March 20.
Closing out the event with an encore of "Bleed It Out," complete with confetti cannons and streamers, the group brought everyone back out to the stage to express thanks to the attending crowd. Check out the full setlist here! (Courtesy of Setlist.fm)
To learn more about the 320 Changes Direction campaign, visit www.changedirection.org. To donate to the One More Light Fund, head to the band's official website at www.linkinpark.com. Linkin Park's latest release, One More Light, is available now.
Couldn't make it out to the event? You can relive Friday night's festivities by watching the livestream below.