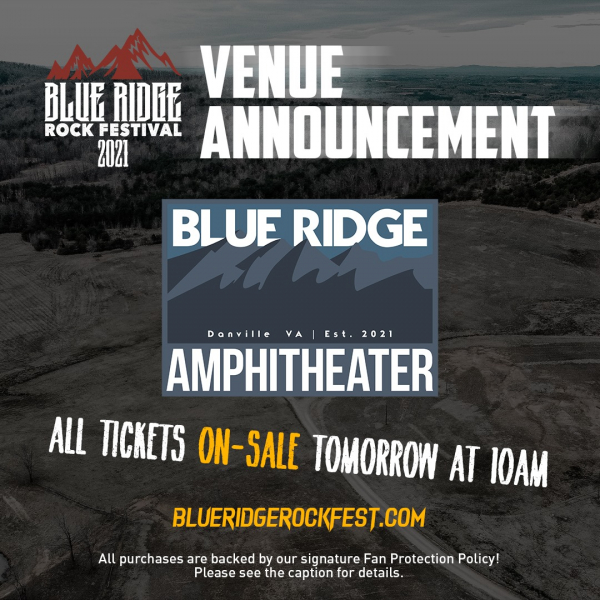 BLUE RIDGE ROCK FESTIVAL: We are beyond thrilled to finally reveal Blue Ridge Rock Festival has now acquired a property of its own! The response from our Rock Family has been nothing short of incredible over the last four years. It is with that sentiment, that we decided to make the plunge and acquire a festival grounds. Here we can not only produce more events for you, but further expands what we can offer at Blue Ridge Rock every single year. We now have full creative control, and a blank canvas to work on year-round, as we explore every option possible to deliver the Ultimate Fan Driven Rock Experience.
TICKET ON-SALE: It goes without saying, YOU call the shots around here. By tremendous popular demand, ALL tickets, camping, hotels, and more will go On-Sale TOMORROW at 10am. At that time, the all-new BlueRidgeRockFest.com will fully launch, allowing you to explore all of the information about 2021, as well as secure your passes at the GUARANTEED lowest price. TICKETS/PASSES
ABOUT THE VENUE: The new home for Blue Ridge Rock Festival is the recently unveiled Blue Ridge Amphitheater, located at 599 Carson Lester Ln. Danville, VA 24540. It is based just off Route 29, conveniently nestled between Lynchburg, Roanoke, Danville, and Greensboro. The Amphitheater does NOT have seats. So, rest assured, the new venue does not eliminate the "pit" section upfront that so many of you love. It will also cater to fans who prefer a more relaxing concert experience. There is a natural amphitheater slope that provides perfect sight-lines for fans who want to bring a blanket and take in the action comfortably from afar.
FAN PROTECTION POLICY: A purchase of any kind to Blue Ridge ensures you receive the lowest price ever offered. Our prices will never go down, leaving you feeling penalized for ordering in advance. If the price ever drops below what you paid, from the time of your purchase until the event, we will refund you the difference! It is just another way to support our commitment to placing fans first.
ROLLOVERS: IF you bought tickets to Blue Ridge in 2020, and did NOT request a refund from our official ticketing partner, Etix, your tickets are SECURED at the 2020 prices you paid. ALL wristbands and packages will be mailed out ONE MONTH prior to the Festival. We are very excited at the incredible value we are able to offer each of you, that includes FREE access to our added fourth day of the Festival in 2021.
HOTEL ROLLOVERS: Do NOT worry! We got you. We have ALREADY made reservations for each of you at a hotel of equivalent, or better, quality near our new Festival Grounds. A member of our team will be in touch within the next 24 hours, maximum.
UPGRADES/TICKETING QUESTIONS: Starting at 10am tomorrow, you can reach out to Etix directly at support@etix.com or 1-800-514-3849.